Aside from, what I consider, a cool play on the use of my name mashed up with "outside of the box", there's a greater meaning to The ToiBox of Words. First, it's the name of my blog located at etoithomas.com. The ToiBox of Words is where I post my book and movie reviews, share my love for geek culture, and talk about my writing.
Next, it's my presence online. All my social media accounts, my YouTube channel, and event my newsletter (Inside the ToiBox of Words) are all infused with this overall theme that what's in my head must come out.
Lastly, the ToiBox of Words is what I consider my unofficial publishing house. When I'm working on a new story or when I release a new book, I consider it just another ToiBox project. Who knows, maybe one day I'll make it official and become a true indie, with my imprint and ISBNs (So, not ready for that just yet.)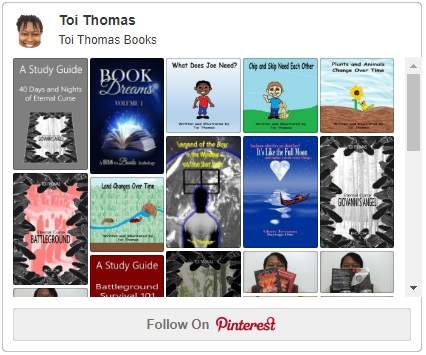 One thing that certainly applies to me, and my quirky online presence, is that I do really try to think out of the box as much as possible. Here are a few of the things you'll find inside the ToiBox of words.
~
A video mini-series about my Eternal Curse series.
Goodreads trivia about Eternal Curse Giovanni's Angel
Pinterest storyboards for Eternal Curse one and two
A love triangle game based on It's Like the Full Moon
An extensive playlist based on the chapters of It's Like the Full Moon
FREE supplemental materials for my Children's Books,
and so much more.
~
If you are so inclined, I'd love for you come and take a journey through my ToiBox of Words. You'll be so glad you did. Bye bye, for now, Toi Thomas. #thetoiboxofwords
Amazon | Goodreads | Facebook | Twitter | Google+ | Pinterest | Tumblr | YouTube
A self-proclaimed techie and foodie, Toi Thomas was born in Texas, but considers Virginia to be home. She enjoys reading, cooking, painting, geek culture, collecting vinyl records, and spending time with her family. Currently working as a special education teacher's assistant while blogging and writing full-time, Toi finds comfort and peace of mind in chocolate, green tea, and naps. Toi and her husband have been married for eleven years and share their home with a tortoise named Betty and a Redbone Coonhound named Margie, who's sure to inspire future publications.
Thomas has entertained paranormal fans with her Eternal Curse series, and angels, demons, and others tale with a Christian worldview. She stretches minds and imaginations with her short story collection, Legend of the Boy…, featuring works of science fiction, paranormal, fantasy, romance, and suspense. Glorie Townson, Thomas's pen name, brings along a bit of romance and comedy in the first book of her Sayings Series, It's Like the Full Moon. Thomas has even delved into the world of educational children's books to enlighten and entertain little minds. She has something for the whole family.
Sign up to Toi's newsletter.  HERE
—